Arrival:
You leave the road S16, the "Arlbergschnellstraße", at the exit "Pians". Take the road B188 (Silvrettabundesstraße), after about 25 km you will reach Ischgl. Leave the mainroad on the right sight at the Exit "K".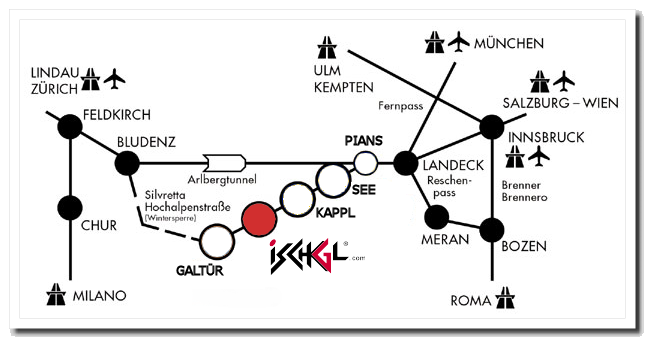 Here our position in Google Maps:
Arrival information:

Please keep in mind that you have to buy a "Vignette" for using highways and motorways in Austria. If you get hold of without a "Vignette" you have to pay high penalties. There are different forms of the "Vignette", you either get one valid for 10 days, for two month or for one year. You can buy them at petrol stations or tobacco kiosks.

Especially in winter it is necessary to have snow tires and winter equipment. In case of bad weather conditions you may have to put snow chains on your tires. We recommend you to attend adequate snow chains for your car before you start in your holidays.